Food Lovers Will Relish These Cuisine-Centric Amenities at Ultra-Upscale Rentals
Spectacular living day to day is what many luxury apartments in Houston offer — and for some, that means the finest food-focused amenities around!
In fact, whether you're a trained chef, an occasional cook, or just someone who adores great food experiences, you won't be disappointed with the food, cooking, and dining amenities available at some of the highest-end luxury apartments in Houston.
Here's why.
5 Food, Kitchen & Dining Amenities at Houston Luxury Apartments
Like to eat, cook, or entertain guests with tasty cuisine? Do you delight in food and wine pairings, poolside summer grilling, or trying the best local restaurants?
Then, buckle up because these food-focused amenities at some ultra-high-end apartments in Houston could knock your socks off and thrill your inner foodie!
1. Gas Stoves & Chef-Inspired Kitchens
State-of-the-art kitchens with stainless steel appliances are the center of many super-luxe rentals in Houston. In fact, these gourmet kitchens are often equipped with top-of-the-line features like (but not limited to):
Energy-efficient refrigerators
Matching dishwashers and microwaves
Spacious, designer cabinets
Kitchen islands for more cooking and entertainment surfaces
Sleek, easy-to-clean backsplashes that tie everything together
2. Wine Cellars or Wine Storage
Store your Chardonnay, Pinot Grigio, Champagne, Merlot, and other favorite wine varieties at the perfect temperature with the wine storage options at many upscale rentals in Houston. Some of these offer:
Wine cellars
In-unit wine refrigerators
Wine-tasting areas that residents can reserve
Wine tasting events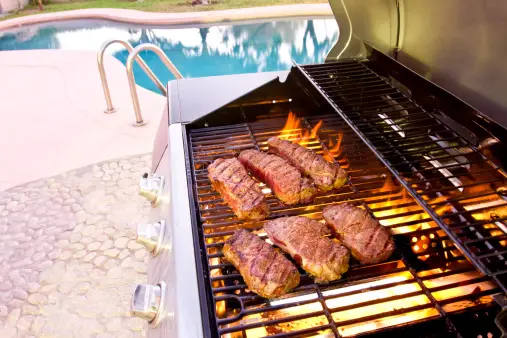 3. Outdoor Kitchens & Grilling Stations
Enjoy cooking outside, grilling burgers, kebobs, or whatever else you like, in the outdoor kitchens available at several Houston luxury apartments. While the setup and features of grilling stations and outdoor kitchens vary from community to community, generally, these amenities come with:
Barbeque grills and some basic equipment
Stylish and comfortable outdoor dining and seating
Pool access and views, some from several floors up, with gorgeous Downtown views!
4. Private Dining Rooms
If you want to host small or larger dinner parties or other events, book the private dining spaces at the luxury apartments in Houston. If you do, you'll be able to WOW your guests in stylish, contemporary settings that are ready to host practically any event.
Often available for special events, these private dining rooms tend to come with:
Kitchenettes or even full kitchens
Plates, silverware, glassware, and other items for serving meals
Lovely views, mood lighting, A/V systems, and so much more
5. On-Site Restaurants & Cafés
Enjoy fine dining morning, noon, and night with a short elevator ride to the on-site restaurants available at some super-high-end apartments in Houston. In fact, those that do offer on-site dining may have options like (but not limited to):
On-site cafés and coffee bars, usually by business centers
Rooftop bars and restaurants, with great Downtown views
Poolside bars and dining, offering a resort-like experience
Those conveniences can make it easy to schedule close-to-home business dinners, last-minute date nights, and even take-out meals that are sure to wow. They can also give you far more options for eating out while staying in.
Food & Dining Amenities: A Quick Disclaimer
While we've showcased some of the coolest amenities available for foodies, keep in mind that:
Not every community offers the same food amenities: Chef-inspired kitchens can look and feel different in different apartment communities. Similarly, the community amenities can vary, with new options introduced seasonally or from time to time. That's why it's important to tour options you're considering, so you can ask questions and see what's available first hand.

Some high-end apartment communities offer even more: Cooking classes, walking distance to exceptional local restaurants, and grocery valet services are just a few more food-inspired amenities that you may also get from some luxury rentals in Houston.
Top 7 Houston Luxury Apartments for Foodies
Now that you know what food, kitchen, and dining amenities are out there, here are some of the best places to start looking for them in Houston:
No matter when or why you want to find a luxury apartment with access to the best food-inspired amenities, the apartment locators at Apartment Gurus can help.
Find Your Next Luxury Rental & Get Cash Back
Find your dream apartment faster and get cash back when you sign a lease by working with Apartment Gurus of Gurus Realty.
Our trusted apartment locators will send you a curated list of amazing luxury apartments, tailoring it to your exact needs and criteria. That can save you time, and it can put money back in your pocket because we'll share our commission with you when you sign a lease.
We Can Find Your Dream Apartment for You!
Get Your FREE Custom Apartment List Now & Up To $500 Cash Back
Call (281) 978-2441 to Get Started
Backed by more than 10 years' experience, Apartment Gurus finds the best options while putting money back in renters' pockets.
Check out our excellent reviews to see how we've helped thousands in their apartment searches — and to see how our program can benefit you. We look forward to helping you find your next Austin apartment to call home!